Customised Solutions – Dolley
Capable to be used with 125mm or 100mm castors.
Stacking location are standard for both castor sizes (dollie on dollie).
Sprung location devices to accommodate a variety of standard trays.
Extension flaps to accommodate attached lid security containers when in nested position.
Four hand-holes for easy manual lifting.
Handle location for pull handle.
Castor protection skirt.
Honeycomb construction for lightweight, high strength component.
Full compartment drainage.
Customised solution – furnibox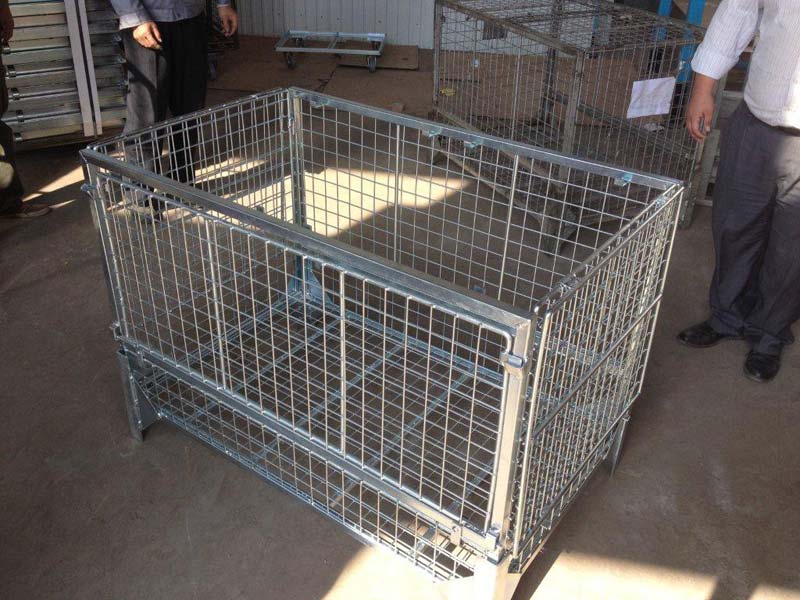 Customised solution – half hyper cage
Size: 735mm x 850mm x 1690mm o/h. (1425mm internal height). 25mm x 25mm mesh, solid base/floor, handle to front gate, with shelf. Full security nestable rolltainer. Fitted with two fixed and two swivel (one braked) 125mm sandwich castors. Bright zinc plate finish.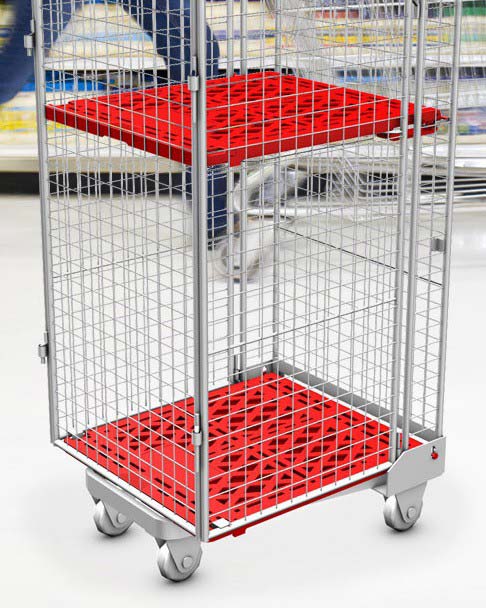 Customised solution – plastic shelf and floor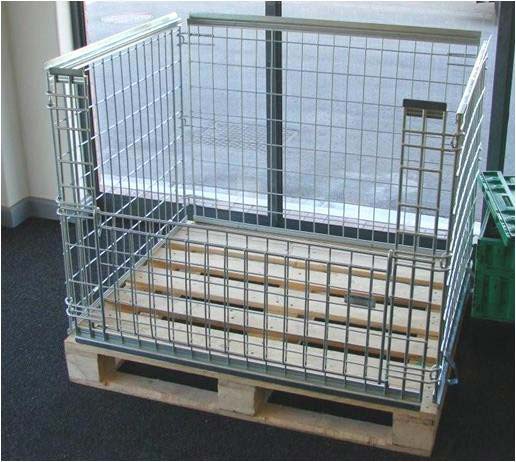 Customised solution – retention unit
STANDARD SECURITY ROLLTAINER

Standard security rolltainer 4mm Size: 735x850x1690mm o/h 1425mm i/h Reinforced design security nestable 'A' frame units with 50 x 3.8mm mesh infill to sides and lid. Integral shelf set 970mm above the base. Fitted with two fixed and two swivel (one braked) sandwich 125mm castors. Bright zinc plate finish.
TWO SIDED ROLLTAINER
The two sided rolltainer is available in various designs and dimensions:
Two sided unit fitted with, two fixed and two swivel sandwich castors. Bright zinc plate finish. Size: 759 x 800 x 1 890mm o/h
Two sided 'A' frame nestable rolltainer, having facility to take a shelf if required. Fitted with two fixed, one swivel and one swivel braked 125mm sandwich castors. Bright zinc plate finish. Size: 735 x 850 x 1 690mm o/h 1 425mm i/h
Size: 720 x 750 x 1770mm o/h. Shelf set at 790mm from the top of the cage. Two sided nestable rolltainer with an integral mid height shelf with rubber buffer to reduce vibration noise when in use. Shelf to attach to side frame when not in use by means of metal clasp. Base fitted with 2 swivel heavy duty 100 x 36mm sandwich wheels & 2 fixed heavy duty 125 x 38mm sandwich wheels. Unit to be fitted with noise reducing plastic parts. Bright zinc plate finish, Tare weight 32.5kg.
GLS products
This packaging medium is secure and nestable. The tote box has a 35kg loading capacity and holds a volume of 68 litres. This container weighs 3.5kg and consists of a PP material, that is recyclable.
Patented hinge design for superior security and ease of cleaning.
Two locking holes for security seals ensures container cannot be opened without detection.
Special designed tamper evidence clip with security number for safety.
Stylish handle design makes container comfortable to hold and easy to move.
Protruding stands on lid for stable stacking.
Easily accessible, highly visible, protected label displays.
Molded striped band to upper edge of container avoids the squeeze of conveyor systems.
Superior self-draining lid design ensures moisture cannot penetrate container.
Lid can withstand significant impacts and loading.
600mm (l) x 400mm (w) x 365mm (h)
Smaller units upon request.